TRANSPORT
---
The smallest of Switzerland's four main cities is easily accessible: by road (A1/E25 and A9/E27 motorways), by rail (CFF network, EC Direct and TGV from Paris and Milan), by air (60 km from Geneva International Airport, in 45 minutes by train; 230 km from Zurich Airport, in 2h30 minutes by train).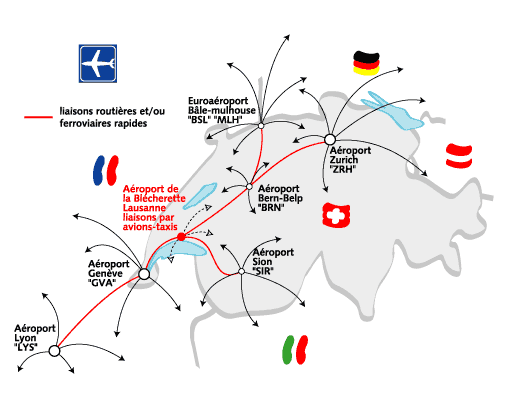 Source : Lausanne Tourisme
PUBLIC TRANSPORT IN THE LAUSANNE REGION
---
www.t-l.ch The city is served by a very dense network of public transport (tl), continuously developed and upgraded. Put into service in 2008, the m2 line is an internationally unique feat of engineering as it is capable of climbing gradients up to 12%. If you are staying in a hotel, ask for the Lausanne Transport Card, which entitles you to use public transport for free during your stay.

tl Live , the official application of public transport in the Lausanne region shows you the next departures of your stops in real time.
THE LAUSANNE TRANSPORT CARD
---
Use public transport - free of charge and benefit from substantial discounts on the boat crossing between Lausanne-Ouchy and Evian, souvenirs and the admission price to various municipal and private museums. The Lausanne Transport Card gives any guest staying in Lausanne and paying the overnight "taxe de séjour" free and unrestricted access to all public transport services in the city (bus, train, metro) This personalized card is given to each visitor paying the overnight "taxe de séjour" by the hotel or guest house on arrival at their place of accommodation. It is valid for the duration of the reservation, including the arrival and departure days (maximum 15 days). In the event of checks an identity document must be presented.
TAXI
---
www.taxiservices.ch - 0844 814 814
www.taxiphone.ch - +41 21 653 13 13 - 0844 810 810
www.allotaxi.ch - 0844 907 907
CURRENCY
---
The franc is the currency and legal tender of Switzerland.
The code of the currency is CHF, although Fr. is also widely used by businesses and advertisers. The Latinate "CH" stands for Confoederatio Helvetica.
WI-FI ACCES
---
Free Internet access at the Casino de Montbenon.
In addition, the City of Lausanne offers you «Lausanne Freespot by Citycable», a free public WI-FI Network in the busiest places of the city center and the edge of the lake.
Free HotSpots in Lausanne city centre
ELECTRICITY IN SWITZERLAND
---
In Switzerland the standard voltage is 230 V and the standard frequency is 50 Hz.
The power plugs and sockets are of type J. This socket also works with plug C. But plug N will NOT work.
VISA
---
The conditions for entry to Switzerland will vary in relation to your nationality.
If you are not a citizen of a country in the EU or EFTA, you may require a visa.
For more information: www.ch.ch/fr/visa-suisse.
EMERGENCY NUMBERS
---
117 Police
118 Fire brigade
144 Ambulance